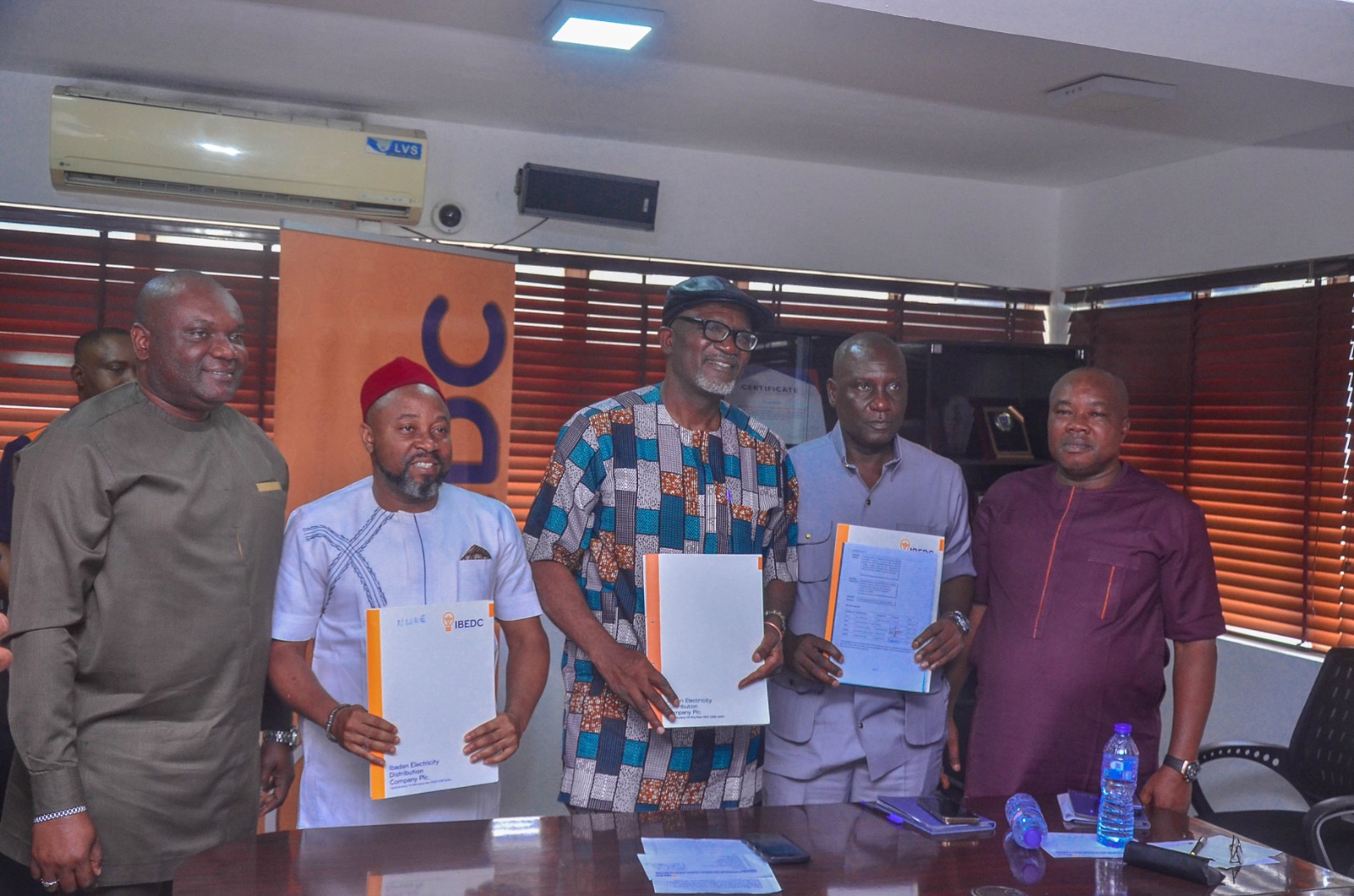 IBEDC electricity workers sign new condition of service
The management of Ibadan Electricity Distribution Company (IBEDC) and its in-house electricity workers' unions have signed a new condition of service to improve employees wellbeing and productivity.
Speaking at the signing ceremony at IBEDC office, Ibadan, on Thursday, Managing Director, IBEDC, Mr Kingsley Achife, said the new condition of service had been carefully drafted.
Achife said the new condition of service would create harmonious balance between management's goal and employees wellbeing.
He noted that the Electricity Act signed by President Bola Tinubu would bring complexity of business environment and competition in the industry.
Achife, however, urged the workers to out in their best for mutual benefits of IBEDC and the employees.
He added that the new condition of service captured a lot of things such as each employee service, exit package and other non financial benefits to improve the wellbeing of all IBEDC employees.
"We understand that the operating environment for workers is becoming more harsher, the salary has been increased by 25 per cent, what management want from staff is more hard work and partnership so that there will be enough money to support them as it's supposed to be.
"The pallative package for the employees is going to be dependent on our performance, we must strive to be a viable company, be able to pay generation company and have surplus to support staff when and where necessary," he said.
In his response, the President, National Union of Electricity Employees (NUEE), Mr Martin Uzoegwu, said the new document gives workers confidence of job security which would go a long way to cement a relationship and partnership between IBEDC and the labour.
Uzoegwu urged IBEDC to ensure that all section of the new condition of service which was co-authored by the union and IBEDC management was implemented effectively.
He charged IBEDC management to always carry unions along in all its policy formulation and implementation.
Uzoegwu noted that outsourcing and casualisation in the work environment threatened employees job and had negative effects on the company's operations.
According to him, a casual staff with low pay can do anything illegal to survive.
"The last condition of service was signed in 2017 and by procedure it supposed to be every three years, we are unable to carry out its review due to some challenges.
"We thank God that after two years of processing new one, we are able to sign new condition of service today.
"We also appreciate the effort of the management of IBEDC to ensure that this collective bargaining agreement is signed and sealed.
"The new condition of service spells out benefits of employees, dos and don't, welfare package and necessary disciplinary actions to check theft and other gross misconduct among others," he said.
Also, the President, Senior Staff Association of Electricity and Allied Companies (SSAEAC), Mr Benedict Chika, called on the IBEDC management to make staff welfare a priority due to the present economic hardship in the country.
This, he said, would serve as a motivation for the employees to improve their level of productivity.
Our Mission
Distributing power, changing lives
Our Vision
To be the best power distribution company in Nigeria