Dear esteemed customer, do you need KCT to upgrade your meter now? If yes, follow these simple steps below.

Step 1: Visit https://tidrollover.ibedc.com/kctupgrade/
Step 2: Enter your meter number in the space provided and click "Get KCT"
Step 3: Type into your meter the KCT 1 given
Step 4: Type into your meter the KCT 2 given
Congratulations, your meter has been upgraded!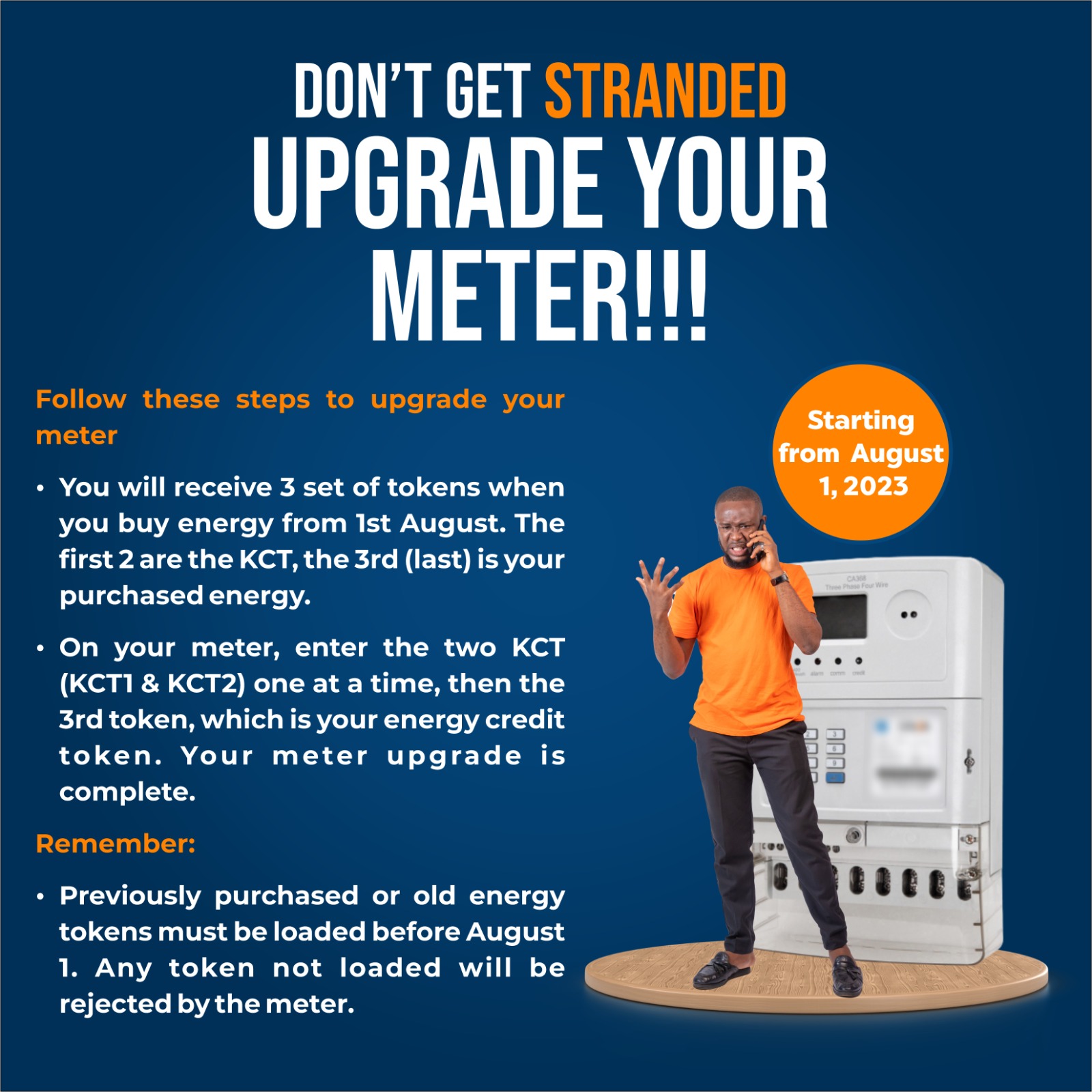 The current software for all prepaid electricity meters in the world including Nigeria will expire on 24th November 2024, in what is called TID Rollover. Your Pre-paid meter must be upgraded, otherwise you won't be able to recharge your meter or use electricity.
To upgrade your meter, you need a Key Change Token-KCT (a special 'reset' token) to be loaded on your meter.
IBEDC will start issuing prepaid meter customers KCT from 1st of August 2023.
When you vend at any of our offices, approved agents or via online you will receive the KCT plus your purchased energy token. Remember, meters that do not undergo upgrade will not accept energy tokens, and customers will not get electricity supply to their homes or businesses. From August 1, the meter will not accept your newly bought token, until the KCT has been loaded.
Customers will use the KCT only ONCE, subsequent energy purchases will be as usual.
If a meter fails to accept a KCT contact IBEDC.
No, all old tokens must be loaded before August 1. Any electricity token not loaded before August 1 will be rejected by the meter and no reimbursement will be made on these tokens. Note that your meter will not accept your newly bought token, until the KCT has been loaded. Click here to see Steps on How to Load KCT.
No! Your credit unit balance on the meter will remain the same and would not be affected after the meter upgrade (i.e loading of the KCT).
No, you will not need to have your meter changed if it is a properly functioning prepaid meter.
Call our customer care line: 07001239999 or Email:
[email protected]
and state your details (meter number, time & date of purchase, and amount) for KCT retrieval.
You can also visit the nearest IBEDC office.