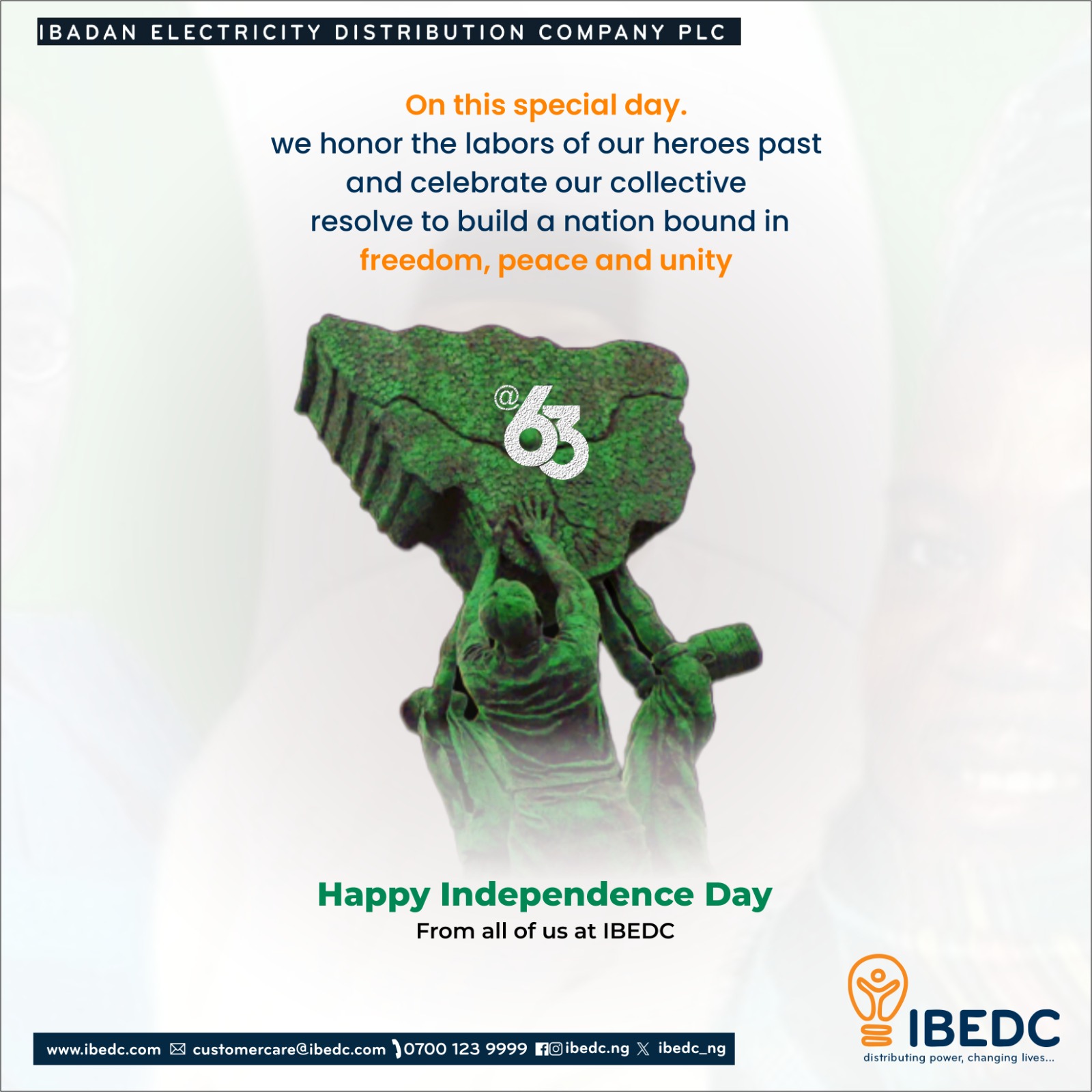 IBEDC Celebrates Nigeria 63
The Ibadan Electricity Distribution Company (IBEDC) Plc extends warm wishes to all Nigerians as the country celebrates its 63rd Independence Day and reaffirms its unwavering commitment to the development and progress of Nigeria.
Engineer Kingsley Achife, the Managing Director and Chief Executive Officer of IBEDC, emphasized the importance of upholding the sacrifices and ideals of the founding fathers as the guiding principles for a united and harmonious country.
He reiterated IBEDC's dedication to contributing to national development through exceptional service delivery and the reduction of the metering gap within our franchise area.
He said IBEDC has put measures in place to ensure seamless service delivery during the public holiday and address any electrical faults that may arise during this period. Furthermore, the company's customer care line (07001239999) will remain active to promptly respond to complaints and reports.
He also urged motorists to exercise caution by avoiding driving under the influence of alcohol and adhering to traffic rules to prevent accidents involving electric poles and other hazards during the festivities. Also, IBEDC implores customers to take a stand against energy theft, which includes tampering with meters or outrightly stealing electricity from the company, as well as avoiding any shortcuts in bill payment processes.
This practice not only undermines the integrity of our electricity distribution system, jeopardizes the sustainability of the power supply but also robs the nation of much-needed resources for development.
Engr. Achife implored customers to take advantage of IBEDC's hassle-free payment channels, including iRecharge, Quickteller, Payarena, Jumia, Watu, Buypower, and ATMs, to conveniently settle their bills and recharge their meters. IBEDC's offices will also remain open during the holiday from 9 a.m. to 3 p.m. to serve customers efficiently.
Our Mission
Distributing power, changing lives
Our Vision
To be the best power distribution company in Nigeria